Advance Security Program Maturity While Reducing Risk​
K logix Security Assessments provide strategic and tactical recommendations to address security program gaps, areas of strength, and deliver a clearly defined roadmap. These recommendations are turned into an actionable plan designed to drive the ongoing advancement of an organization's security strategy.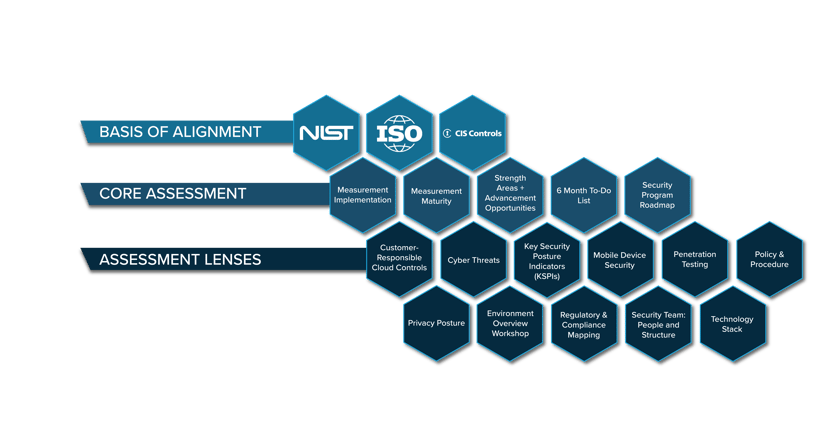 Map to a Framework
NIST
ISO
CIS Controls
or other industry standard framework
Benefits
Increase influence of cybersecurity leadership

Achieve a strategic, proactive and top-down approach

Obtain an independent, third party view into your security program
Security Framework Assessment Sample Deliverables:
Narrative Report PDF: Identified common theme risk areas and executive-friendly findings and recommendations.
Engagement PowerPoint: Includes detailed findings summarizing strength areas, opportunities for improvement, and more.
Executive PowerPoint: High-level view of findings tailored for executive audiences.
Roadmap: Recommendations for a move-forward strategy to meaningfully advance the security program and posture.
Six Month To Do Lists: Areas to take immediate action including foundational security program areas and tactical risk mitigation items.
Security Framework Assessment Lenses:
Outside of the core assessment deliverables, any combination of these lenses may be added on to any Framework Assessment
Customer-Responsible Cloud Controls: A single dashboard displaying security posture indicators demonstrating gaps, capabilities, and a point in time view on the defensive stance of current cloud deployed services
Cyber Threats: Matrix view of threat preparedness utilizing relevant attack surfaces
Mobile Device Security: Single dashboard displaying security posture indicators demonstrating gaps, capabilities, and a point in time view on the defensive stance regarding mobile oriented threats and risks
Policy & Procedure: Evaluates if policies and procedures are in place, mostly in place, partially in place, or not in place
Privacy Posture: High-level view of privacy posture to understand maturity pertaining to cybersecurity risks, and associated privacy-related risks and events
Key Posture Security Indicators: High-level view of security program, appropriate for executive audience
Realm Definition Workshop: Workshop to conceptualize the realms comprising the technical environment and produce a high-level/executive-friendly network diagram
Regulatory & Compliance Mapping: Map to GDPR, State Privacy Laws, PCI, etc. and determine alignment to NIST or ISO
Security Team - People and Structure: Identifies the current state of the security team and opportunities for advancement
Security Penetration Testing: Full suite of security testing services including penetration testing and configuration reviews
Technology Stack Workshop: Collaborative discussion identifying ownership/licensing of technologies currently in use and identify gaps
Interested in learning more? Contact us below.