IDaaS in 2022: Understanding Identity as a Service
Published On: January 7, 2022
Identity and Access Management (IAM) is a strategic goal for CISOs and security leaders, and the need for strong programs is more important than ever before. IAM is the anchor in the effort to make organizations robust, agile, and secure. However, at times there may be an expressed confusion in the market when actually putting IAM programs in place, from processes to technology investment decisions.
IAM programs help reduce risks related to identity and access, they manage "digital identities and user access to data, systems, and resources within an organization." With the challenges caused by remote workforces, the importance of properly managing identities has become more significant, driving security programs to consider new solutions that will minimize disruptions in user's abilities to work, especially in a remote environment. Enterprises are embracing cloud and mobile technologies, and as they do, they're moving beyond traditional network boundaries and the capabilities of their legacy IAM solutions.
Furthermore, as technologies advance and the number of applications used across organizations expand, IAM has become more complex, evolving into holistic approaches to identity management. These advancements include programs such as Privileged Access Management (PAM), Identity Governance and Administration (IGA), and the focus of this article: Identity as a Service (IDaaS).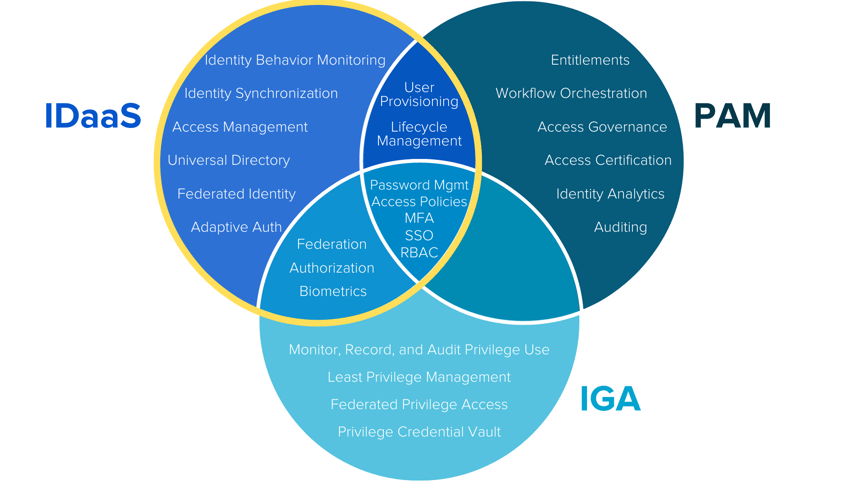 So, what is Identity as a Service (IDaaS)?
PingIdentity defines IDaaS as "a cloud-based subscription model for IAM, where identity and access services are provided over the internet by a third-party provider rather than deployed on-premises." IDaaS can contain a range of services, but typically includes single sign-on (SSO), multi-factor authentication (MFA) and directory services that provide organizations with simple and cost-effective identity and access management capabilities.
Gartner defines IDaaS as "a predominantly cloud-based service in a multi-tenant or dedicated and hosted delivery model that brokers core identity governance and administration (IGA), access and intelligence functions to target systems on customers' premises and in the cloud."
Regardless of the specific definition, security leaders agree on these three key elements of IDaaS :
IGA: Provisioning of users to cloud applications and password reset functionality.
Access: User authentication, SSO and authorization supporting federation standards such as SAML.
Intelligence: Identity access log monitoring and reporting.
What are the types of IDaaS?
When it comes to end users, IDaaS provides similar capabilities to an on-premises deployment of IAM, assuming the user has access to the IDaaS cloud solution. The biggest difference is that IDaaS is hosted in the cloud by a third-party provider, which allows users to securely access their account from anywhere via different devices. This is done through a combination of single sign-on, multi-factor authentication, and directory solutions.
There are many different types of IDaaS solutions. Some IDaaS providers support a singular piece of the puzzle (for example, providing just a directory) while other IDaaS solutions provide a more complete offering of functionalities such as combined SSO, MFA, and directory. In addition to these different configurations of solutions, certain IDaaS solutions cater to specific end users like employees, customers, or business partners.
The two main types of IDaaS solutions:
Basic IDaaS usually supports SSO into SaaS apps, which tends to benefit small and medium-sized businesses as well as organizations that are cloud native. These types of organizations do not usually have their own on-premises IT infrastructure to worry about and

are usually large consumers of SaaS apps. Therefore, basic IDaaS solutions can provide all the functionality needed for these businesses.

Enterprise IDaaS, due to the more complex IT environments that exist in larger and older enterprises, tend to be more robust. These organizations host an assortment of on-premises, IaaS, SaaS, and PaaS applications. Furthermore, enterprises typically use IDaaS to extend their existing IAM infrastructures.
Why is IDaaS increasingly growing in importance?
The goal of IDaaS, as with any traditional IAM solution, is to verify that a user is who they claim to be and then grant access to applications once the user has been approved. However, with current trends of a more remote and mobile workforce and the proliferation of SaaS apps such as Salesforce and Office365, managing and verifying identities is much more complex and costly than it used to be.
Identity as a Service allows organizations to let an authorized third-party vendor manage the operational nuts and bolts of an IAM solution, saving administrative overhead for the organization because it removes the need to manage infrastructure, provide security, install and upgrade software, back up data, etc. IDaaS offers a scalable IAM solution that accelerates digital transformation while reducing cost and risk.
What are the benefits to implementing an IDaaS solution?
Eliminate cost and complexity

– IDaaS solutions help businesses avoid capital equipment expenses, simplify ongoing IT operations, and free up IT staff to focus on core business initiatives.

Accelerate time-to-value

– Businesses can deploy IDaaS solutions quickly and easily, with little or no on-premises technology to procure, install, or configure.
Reduce risks

– IDaaS solutions strengthen security by eliminating risky password management practices and by reducing vulnerabilities and attack surfaces.
Improve user experiences

– IDaaS offerings improve user satisfaction by eliminating password fatigue and allowing users to access all their applications in a consistent manner, using a single set of credentials.
Fundamentally, IDaaS helps organizations save money and time while taking advantage of specialized IT expertise. It enables users to securely and easily access needed apps on a variety of devices while on the go or at the office.
How K logix can help navigate the IAM space
Regardless of your IAM program maturity, K logix meets customers where they are and offers services around:
IAM strategy: Unify your identity technology and program strategy with formally documented resources and justification.

IAM technology decision: Understand the IAM technology marketspace and which technology (or technologies) are the best fit based on your specific requirements. Leverage K logix's agnostic analysis informed by quantitative scoring and budget requirements.
For more information and to see how K logix can help you address your IDaaS challenges, contact one of our experts.
Subscribe
Stay up to date with cyber security trends and more