Cybersecurity is progressively becoming a more involved and crucial part of the business.
If you've stumbled upon this guide, you're probably already well aware of cybersecurity and its many facets. For security professionals in leadership positions, the idea of implementing and managing a company-wide security program can seem like a daunting responsibility, regardless of your vertical or organization size. Fortunately over the years, we've seen the role of the security leader evolve from a technical position to a more strategic and business-focused one. In order to keep pace with the business and make security a competitive advantage, it's critical for today's security leaders to align with the business goals and create a culture of shared cyber risk ownership.
What Does a Strategic Security Program Look Like?
Through the trends we've collected from our 150+ CISO interviews in our quarterly publication, Feats of Strength, and the research gathered from the K logix Internal Research Department, we can conclude that a successful security program includes these components: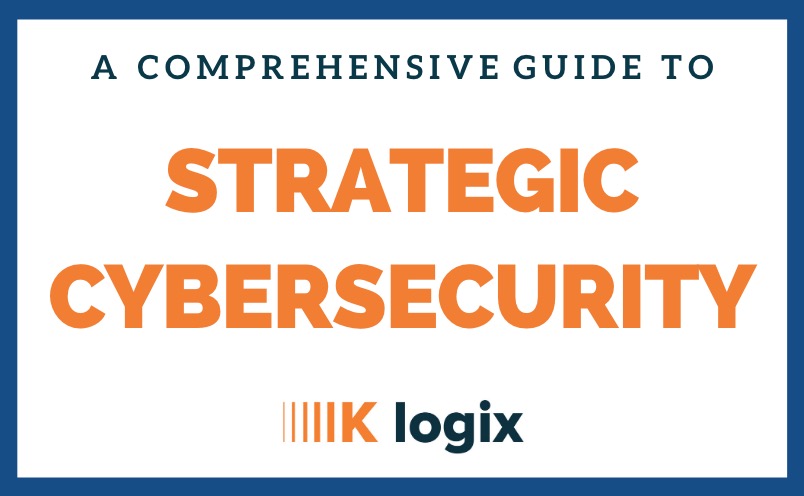 Getting Started: Industry Frameworks and Best Practices
A notable study assessed adoption patterns for widely used security frameworks. The survey was completed by 338 IT and security professionals in the U.S and it reveals that 84% of organizations already leverage some type of security framework. The frameworks most widely used by respondents include:
National Institute of Standards and Technology

(NIST)

Framework for Improving Critical Infrastructure Cybersecurity

(NIST CSF)

Used by 29% of organizations, NIST is a voluntary framework intended primarily for critical infrastructure organizations to manage and mitigate cybersecurity risk based on existing standards, guidelines, and practices

That being said, the Cybersecurity Framework has proven to be flexible enough to also be applied by non-US and non-critical infrastructure organizations

Center for Internet Security Critical Security Controls

(CIS)

Used by 32% of organizations, the CIS Critical Security Controls are a set of 20 actions designed to mitigate the threat of common cyber attacks

The controls were designed by a group of volunteer experts from a range of fields, including cyber analysts, academics, auditors, and consultants

ISO 27001/27002

Used by 35% of organizations, ISO 27001 is the international standard that describes best practice for implementing an ISMS (information security management system)

Achieving accredited certification to ISO 27001 shows that your company is following information security best practice, and delivers an agnostic expert assessment of whether your data is adequately protected
While the three frameworks listed above are considered some of the most widely used, you might be subject to different and/or additional requirements and compliancy regulations depending on your industry and organization size.
Security Program Areas: The Basics
In order to set the foundation for your strategic security program, it's important that you have the basics down. These are the most common security areas/categories:
For more information on these security categories and the technologies available to you, reference our downloadable guide on the Cluttered Security Marketspace.
Challenges
While every organization and vertical has its own specific set of challenges, security professionals generally agree on the top challenges they face while running a strategic security program. Based on the research we've collected in our Feats of Strength magazine and through our Cyber Security Business Podcast, here are the top 5 challenges that security faces:
A successful security program takes a strategic approach to these challenges and implements innovative and creative tactics in an attempt to address them.
Trends
In addition to the challenges a security leader faces, they also take into account the trending topics of the industry and when necessary and appropriate, apply them to their overall security strategy. Our research identified the top cybersecurity trends of 2020 and beyond:
Artificial Intelligence

CISOs believe AI is moving beyond a buzzword. Many are actively researching and investing in AI technologies they believe will help their security programs. According to the trends we collected in our March issue of Feats of Strength, AI is the third most popular area in which CISOs are investing in this year.

Automation and Orchestration

CISOs are looking to invest in automation technologies that work to free up time and resources for their security people, so they can instead focus on strategic and high-value opportunities. As an example, information security is moving into other parts of information security, namely the DevSecOps space.

Clearing the Clutter

There's no denying that the marketspace is saturated with security products and vendors, but how do you filter through the clutter and decide on the solutions that are best for your organization? We asked leading CISOs to weigh in on this topic.

Cloud Migration

According to our profile with Michael Charland, Global ISO at Hartford Steam Boiler, he believes "although many organizations have already begun moving to the cloud, they often have not taken time to provide training to their IT and/or security teams on the differences of how to manage security for cloud. There are many changes in how we manage security in the cloud based on whether the solution is SaaS, IaaS, or PaaS. When moving to cloud, we need to make sure that compliance is in place for our cloud configurations. Automation must be used as much as possible and...we need to understand and automate processes with policy and automation in place prior to moving to new technologies.

"

Privacy Regulations




When asked about the top challenges that force CISOs to redirect their time and focus away from strategic tasks, privacy regulations were among the top. These shifts and developments in regulations constantly redirect security team's time. With regulations like GDPR and CCPA to focus on, CISOs are forced to spend more time interacting with their legal and compliance teams.

Security Culture/Awareness




Behind a focus on cloud, increasing security awareness is the top goal for CISOs this year. They agree that in order to do this, they have to spend budget on building a stronger security culture within their organizations. CISOs are becoming increasingly more innovative with their attempts to embed security into the fabric of their companies.

Shift Left Security

Shift Left was mentioned by 54% of the CISOs we spoke with at the RSA Conference this year. They discussed the term in the context of improving quality by moving tasks to the 'left' as early in the technology lifecycle as possible, so you spend less time, energy, and resources on dealing with security issues.

Zero Trust Models

Much like AI, Zero Trust Models are moving beyond a buzzword.

In the Zero Trust model, no one and nothing is granted access until it has been verified. Zero Trust makes up for the dangers created by interconnection in the cloud, and a

s highly-connected cloud-based environments and threat landscapes continue to emerge and expand, the need for Zero Trust-based strategies is apparent now more than ever.
Read more about the trends we collected at the RSA conference in 2020.
Personal Development and Staying Current
Out of all the CISOs we've profiled, every single leader has cited personal development as a priority of theirs. In order to be strategic, make security a competitive advantage, and align with the business, it's crucial to make sure you're staying on top of the latest communication channels. Here are a few ways to stay current:
At the end of the day, security isn't just an issue for the Security Department, it's a priority for the organization as a whole. In an attempt to create a culture of shared cyber risk ownership, your program must be strategic and business-focused. By focusing on the five components listed above, you set your organization up for success and create a foundational backbone for your security program.