SOC 2 Evaluation Process
Published On: February 22, 2023
In our previous post introducing Systems and Organization Controls (SOC) 2, we provide an understanding of the security controls an organization must have in place to protect customer data, determine if these measures comply with SOC 2 requirements, and identify opportunities for improvement. In this post, we will discuss how to prepare for the SOC 2 evaluation, and the steps to best position an organization to attain SOC 2 compliance.
Preparing for SOC 2 Evaluation
To prepare for SOC 2, an organization must define their scope and gather relevant documentation. The American Institute of Certified Public Accountants' (AICPA) Assurance Services Executive Committee (ASEC) outlines the common criteria evaluated in a SOC 2 assessment to give organizations a clear understanding of what must be in place to pass. These common criteria govern controls pertaining to:
The control environment

Information and communication

Risk assessment

Monitoring of controls

Controls activities related to the design and implementation of controls
These criteria evaluate the operating effectiveness of an organization's controls using the Trust Services Categories (TSCs). The security category is included by default in a SOC 2 assessment. The remaining TSCs of confidentiality, processing integrity, availability, and privacy, are not required for SOC 2. However, organizations should consider incorporating principles from these criteria as they provide additional transparency to customers regarding their security program, and the areas where the organization provides protection. For example, by including availability in the scope, an organization showcases the strength of their business continuity and disaster recovery plans, and processes that will ensure business operate as usual following an incident.
In addition to the common criteria, AICPA provides supplemental criteria that provide increased security assurances deemed critical for service organizations. These additional criteria govern controls pertaining to:
Logical and physical access controls

Systems operations

Change management

Risk mitigation
If an organization meets all these criteria, it has covered all security-relevant concerns for all principles within the TSCs.
One helpful measure for an organization would be to delegate a team to assist the different business units in helping the organization understand why SOC 2 is being pursued, executing the necessary preparation steps, coordinate document collection, ensure the business is in good position to proceed with the assessment, and overall, make certain the process runs smoothly.
Defining the Scope
With SOC 2, an organization determines how in-depth the assessment will be by defining the scope. This allows an organization to focus on the areas it is strongest to pursue SOC 2.
The drawback of defining the scope is the organization runs the risk of specifying a scope not thorough enough for a customer to develop trust, such as:
Defining a scope that is too broad:

Could consume time and resources needed to create controls for risks that don't exist in the organization

Cause an auditor to discover linked systems or controls that could expand the scope to less secure systems

Defining a scope that is too narrow:

Could mean certain risks will not be identified and this would make the business more vulnerable

Result in a report being generated after the assessment that is less useful or beneficial for clients, vendors, etc.
For this reason, it is crucial to solidify a balanced scope that provides enough assurance to customers of the organization's security controls, as well as confirm the organization's resources are used wisely. To help determine the scope, an organization should consider:
Which TSCs apply to the organization and the services they offer?

Which systems and documentation support the selected TSCs?

Which type of report (Type 1 or 2) does the organization desire?
Once an organization confirms their responses, they can finalize their scope and begin collecting the necessary documents to get started.
Gathering Required Documents
The policies and supporting procedures needed for the SOC 2 evaluation are determined by the scope. All policies and procedures should be established within the organization (i.e., documented, formally reviewed, and approved). If there are processes not supported by documentation, the organization should address this by creating them; otherwise, it will be identified as an exception. For a Type 2 report, evidence must be presented to show the auditor that the organization is following their own policies.
Two additional required documents are the management assertion letter and system description. The management assertion letter will explain the systems used to execute the organization's services, how they are carried out, and how they meet the requirements of the selected TSCs. The system description provides an overview of the organization's infrastructure included in the SOC 2 evaluation. A control matrix is also something that can be provided, and it pinpoints the specific controls that are relevant to the selected TSCs.
SOC 2 Evaluation
The assessment is carried out by an auditor from a licensed CPA firm that specializes in information security. The auditor will review all documentation provided by the organization, and depending on the type of report being requested, either assess the controls at a point in time (Type 1 report), or the operating effectiveness of the controls over a period (Type 2 report).
Additional Resources
Organizations have the option of conducting a SOC 2 readiness assessment that is conducted by an experienced auditor to determine whether their organization is SOC 2 compliant. The organization would receive a letter outlining the gaps that need to be addressed before pursuing SOC 2. Organizations can also take part in SOC 2 audit training to learn more about how to prepare for a SOC 2 evaluation. These resources can be extremely beneficial for an organization to attain SOC 2.
Evaluation Timeline
The average timeframe* for executing the SOC 2 process is as follows (dependent on the organization's size, selected TSCs, scope, and documentation requirements):
Getting Organization Approval: ~1 month

Defining Scope: ~1 month

Generating Missing Documents: 1 – 3 months

Collecting Documentation: 1 – 12 months

Selecting CPA Firm: 2 weeks – 1 month

Readiness Assessment: 5 weeks – 3 months

Training: 1 month+

SOC 2 Evaluation:

Type 1: 1 – 2 months

Type 2: 45 days – 3 months
Reporting:

Type 1: 2 – 3 weeks

Type 2: 3 – 12 months
SOC 2 Costs
The average costs** for the SOC 2 process are as follows (dependent on the size and complexity of the organization, desired CPA firm, selected TSCs, defined scope, and scope requirements):
Creating and Collecting Documentation: $3K – $80K

Readiness Assessment: $10K – $15K

Training: $2K+

SOC 2 Evaluation

Type 1: $6K – $20K

Type 2: $25K – $60K

Report

Type 1: $5K – $10K

Type 2: $12K – $20K

Legal Fees: $5K – $12K
When pursuing SOC 2, preparation is paramount. If an organization is willing to take the necessary measures to prepare for the assessment, they should be in a good position to become SOC 2 compliant.
How K logix Helps
K logix assists customers in understanding security frameworks such as Systems and Organization Controls (SOC) 2, and how they are leveraged to bolster their security program, as well as mitigate successful attacks from threat actors. K logix provides services to prepare organizations to attain compliance for security frameworks, like SOC 2, and create a plan of action to achieve it. With the threat landscape constantly shifting, it is our top priority to ensure organizations are well equipped and well prepared to not only stop tomorrow's attack but protect customers and their data. To learn more about K logix services, contact us: info@klogixsecurity.com.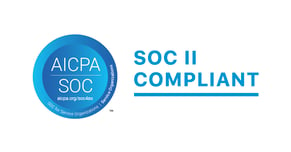 Image source: https://www.aicpa.org/
* Sources:
https://secureframe.com/hub/soc-2/audit-timeline
https://cloudsecurityalliance.org/blog/2022/09/15/how-long-does-it-take-to-complete-a-soc-2-audit/
https://www.assurancelab.com.au/resources/post/soc-2-timeline
https://blog.rsisecurity.com/how-long-does-soc-2-compliance-take/
https://www.riskcrew.com/2021/06/how-to-get-soc-2-compliance-and-how-long-does-it-take/
** Sources:
https://secureframe.com/hub/soc-2/audit-cost
https://sprinto.com/blog/soc-2-compliance-cost/
https://www.auditboard.com/blog/soc-2-audit-cost/
https://www.schellman.com/blog/what-does-a-soc-audit-cost
https://www.strongdm.com/blog/how-much-does-soc-2-cost
Subscribe
Stay up to date with cyber security trends and more