Staying Agile with Cybersecurity Automation
Published On: September 8, 2021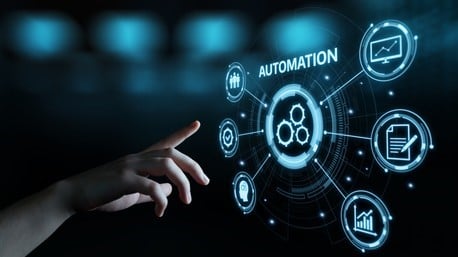 As transformation continues to disrupt and redefine the business landscape with unparalleled speed, today's forward-thinking security leaders are realizing the inescapable need to test and experiment with new technologies and solutions to keep up with modern-day security. While the number of unfilled security positions continues to rise and teams are struggling to have to do more with less, organizations are turning to more automated processes.
In comes security automation: the use of technology or services that perform tasks with reduced or minimal human assistance in order to integrate security processes, applications, and infrastructure. As the threat landscape continues to grow and shift, combined with the influx of remote workers, automation is becoming an increasingly crucial component of strategic and agile cybersecurity programs.
The Need for Security Automation
There are currently 3.5 million unfilled cybersecurity positions globally, and as previously mentioned, one of the main contributors to this increasing skills gap is the ever-evolving threat landscape. With the skills shortage at a crisis point, organizations are turning to automation to address rising threats and strengthen their security programs.
Cyberattacks are now happening every 39 seconds, according to a study done by the University of Maryland, with some organizations receiving thousands or even millions of security alerts every month. Security professionals are tasked with monitoring the largest attack surface in cyber history as we continue to see a rise in cloud adoption, IoT and mobile device use. To put it briefly, alerts are coming from literally everywhere!
Without automation, analysts must address threats manually. This may mean investigating the issue and comparing it against their organization's threat intelligence to establish its legitimacy or threat on the business. After analyzing what impact this threat might have, security staff must then manually resolve the issue – now imagine doing this for millions of alerts, and often with inadequate or incomplete information.
Additionally, many of these threats are redundant, so analysts are spending valuable effort and time on recurring tasks that keep them from working on more critical matters. Security automation does the work for you: when a threat or alert comes in, the automation technology determines immediately whether there's action that needs to be taken. If so, it automatically remediates the issue, freeing your security staff to focus on more important issues.
Signs Your Organization Might Need Security Automation
While it's safe to make the assumption that most businesses could benefit from automation, the following instances might make this concept an immediate need for your organization:
You've been breached. Understanding the "why" behind a security breach is "part of the investigative process and usually boils down to something being overlooked." Security automation platforms help your team identify real threats and reduce false positives.
You're struggling to respond to threats in real time. As cybersecurity teams struggle to deal with an increasing number of networks and threats, it's only natural they will find it more difficult to deal with these issues in a timely manner. Security automation helps teams

"

identify the most pressing issues and adequately prioritize responses."

Threats are slipping through the cracks. Even if a threat did not cause your business significant damage, threats slipping through the cracks is a sign there are potential issues in your security processes. When teams have too much on their plates, attention to detail tends to slip. Investing in security automation tools helps free up valuable time and effort.
Automation is a natural next step for evolving and agile cybersecurity programs. An investment in automation leads to a more productive security team that is able to better protect your organization in a timely manner.
Automation is a Top Priority for CISOs in 2021
According to K logix CISO research conducted in 2020 and 2021, automation continues to be a top challenge for security leaders, specifically when it comes to identity and access management. In 2020, automation was the top investment area for chief information security officers.
On page 6 of our March 2020 issue of Feats, Flexport CISO Kevin Paige lists automation as one his top priorities for 2020 and beyond. He states, "I like to use the words 'shift left' from an operational perspective. How can I provide self-service and/or automated mechanisms where our employees can help find and/or fix issues themselves with great levels of transparency and understanding of the issues? …For instance, I ask my team how can we fully automate something like incident management the same way our software engineers automate their software pipelines and deployment activities? How can we make security "just work" invisibly and become a thing that blends into the normal day-to-day and not be this thing only a select group of people understand?"
Kaseya released its 2021 IT Operations Report, which surveyed nearly 1,000 IT professionals worldwide about their top priorities and challenges. Their results mirrored those we previously saw in our CISO research.
One key finding from the survey included the top three priorities for IT professionals in 2021: improvement of IT security, cloud migration, and automation to increase IT productivity.
Time-saving automation solutions are crucial for IT professionals' continued productivity and success. Half of respondents rated automation of IT processes through their endpoint management solution as "important, and 47% rated the ability to run automation scripts as critical to their success."
Security automation is increasingly no longer a "nice to have," it's a must in today's complex IT environment. Amid the ever-changing threat landscape and rise in attacks, there's a shortage of security talent, and automation maximizes the value of your current team by automating repetitive tasks. Responses to incidents are dwindled down to a matter of seconds, meaning you'll be able to better protect your organization and customers while protecting your business's brand image and bottom line.
How K logix Can Help
K logix works with security professionals interested in addressing automation through our white glove advisory and consulting services. We work with you to deliver results aligned to your specific technical and business requirements, resulting in strong justification with an accelerated time to value. Contact us for more information.
Subscribe
Stay up to date with cyber security trends and more